The NEON District owes its earliest roots to a group of ambitious art advocates who asked a simple question of local property owners…Mind if we paint on your boarded up windows?
In the early 2010s, murals projects in Richmond, Virginia and arts districts like Wynwoods Walls in Miami were experiencing the early and positive impact of public art. Local artists wondered what it would take to see their artwork on buildings in Norfolk and beyond. It was clear that collaboration and advocacy were needed to harness the creative energy simmering throughout the 757. Enter AltDaily.com. Founders and editors Hannah Serrano and Jesse Scaccia spearheaded the efforts to connect local artists to city government, cultural and educational institutions.
Partners from the Chrysler Museum of Art, Old Dominion University and the Downtown Norfolk Council first met in 2010. Their primary goal was to commission a collaborative mural featuring works by artists from both the southside and peninsula. But where? And how?
At the time, the blocks north of Brambleton Avenue were dotted by vacant properties. Standing at the corner of Granby Street and Olney Road was Zedd's Auction House. It featured 8-foot tall storefront windows wrapping three sides of the building, all boarded up. The location and street-level paintable "real estate" made it ideal for the first HRTC mural project. The Downtown Norfolk Council leveraged the support of respected community partners to secure permission from the property owner to paint the boards and Hampton Roads: The Canvas was officially born.
Following an open call on Facebook, four artists were selected: Elizabeth Cooke (Hampton), James Davis (Virginia Beach), Christopher Jude Ranes (Norfolk) and Asa Jackson (Newport News).
Cooke's section featured whimsical figures representing her daily commute from her home in Hampton to Norfolk where she attended college. Animated depictions of friends, houses and animals all speak to what it means to be home in a place or at home with people.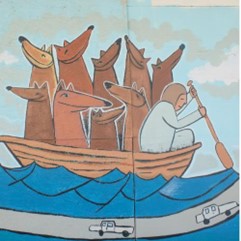 James Davis' portion was executed with stencils reminiscent of the graffiti-style of Banksy. His work demanded the viewer to reconsider how they look at the world and what they consider as art.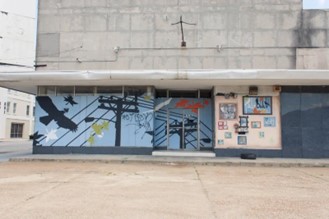 Christopher Judes Ranes' work featured a graphic representation of children building the skyline of a city. The electrical lines wrapping through the design are from the new Tide light rail that had just opened in Norfolk, inspiring hope for a future multi-modal connection between all seven of the Hampton Roads cities.
Asa Jackson (aka: TruFace) was featured on the south side of the building. The design featured abstract faces intermingled with brightly colored patterns and text. The work held narrative clues referencing self-awareness and the choice to evolve into a higher version of ourselves.
Hampton Roads: The Canvas was the definition of a grassroots effort. A group of like-minded individuals saw a need in their community. They rallied support, organized around a specific project, even secured small monetary contributions from the public to purchase paint materials. More supplies were crowdsourced and donated through Old Dominion University's art education program. All four artists gave their time and skills and hearts to paint for a month in cold December temperatures. This one city block, covered in paint and hope, planted a seed that Hampton Roads could be a place where art thrived.
Five years later, after two Art Everywhere pop up events downtown, one blockbuster Better Block weekend and a whole lot of art networking and advocacy, the City of Norfolk officially designated the first arts district in Hampton Roads: the New Energy of Norfolk (NEON) Art District. Now there are arts and cultural districts in Virginia Beach, Hampton and Portsmouth with sculpture and contemporary art galleries in all of the seven cities. And that creative energy is still flowing in the NEON, which has now featured more than 120 diverse public art projects from local, national and internationally-known artists.
link: https://vimeo.com/20773867